Steel Buildings Michigan
Michigan, known as the "Great Lakes State" since it is bordered by 4 of the 5 Great Lakes, is one of the largest states in the country with a diverse range of geography and climates. From the beaches of West Michigan to the massive forests of the Upper Peninsula to the endless plains of south-eastern Michigan, every region of Michigan will have a different set of challenges to design around.
Michigan's economy is built on the foundation of the automobile industry, which makes it one of the most prominent states in high-tech, employing over half a million residents in this sector alone. As a result, Michigan is the home to several thriving industries, industries that need research facilities, manufacturing facilities, warehouses, and other engineering-related buildings.
Steel buildings are the perfect choice for these buildings because they are durable, fire-resistant, and can be erected quickly to keep up with the fast pace of modern technology. Steelsmith has several successfully completed projects in Michigan, including warehouses that could be used for industrial applications, as well as recreational buildings such as airplane hangars.
Additionally, Michigan also has a thriving agricultural sector. Its main exports include fruit and Christmas trees, and these farms require buildings that can keep their products and equipment safe and secure. Steelsmith has designed, delivered, and erected several agricultural buildings, and you should contact us to start building yours.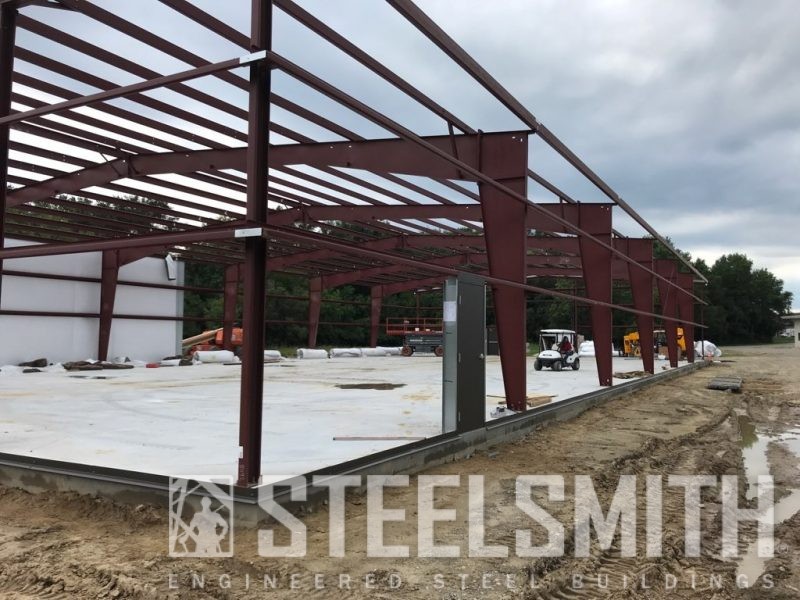 Industrial Storage Building Dimensions: 75x150x18 (11,250 sq ft) Location: Pontiac, Michigan.