Whether you are looking to house that new water jet machine or to expand your current welding operation, a Steelsmith building is the perfect choice for all your manufacturing and industrial building needs. Our buildings can be designed to accommodate all types of cranes, hoists and storage racks. Steelsmith has the experience and expertise in construction of manufacturing facilities, industrial business parks, recycling centers, stations, and terminals. From small shops to large manufacturing plants, a Steelsmith industrial steel building can meet any design requirement.
Different types of industrial steel buildings include:
Prefab Steel Manufacturing Facilities
Custom Built Steel Crane Buildings
Waste Transfer Stations and Recycling Centers
Small Utility Buildings
Bus or Trucking Stations/Terminals
Oil and Gas Operations and Storage Facilities
A Steelsmith prefabricated steel or metal building is perfect for just about any industrial/manufacturing facility. They are long-lasting, low-maintenance, easy-to-expand, and much more affordable and reliable than traditional buildings. We can design them with frames that have no interior support columns to provide a maximum amount of space, which is essential to optimize functionality in industrial buildings.
Since prefabricated manufacturing facilities go up quickly, there is no waiting to capitalize on your new manufacturing facility. Your manufacturing hub is engineered for structural durability – it is fire resistant, termite resistant, and built to withstand heavy wind or snow loads.
Steel Buildings for the Oil and Gas Industry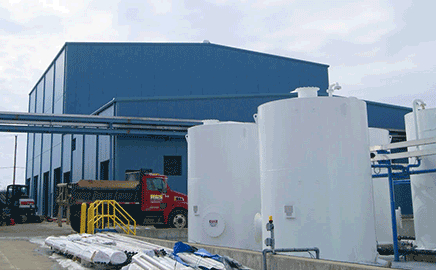 Facilities in the oil and gas industry face a higher level of scrutiny and regulation, and Steelsmith creates custom-engineered steel buildings that meet and exceed the required specifications. Each building is fully customizable to suit your unique project needs, site requirements, and logistics, and they are also built in compliance of all industry standards as well as all local and federal regulations. Efficiency, strength, stability, and durability are just a few of the vital components necessary for facility in this business sector; and Steelsmith is here to provide that top-notch quality.
Steel Building Types Menu: