How To Determine Steel Building Pricing
8 Things To Know When Pricing a Steel Building
A prefabricated steel building can literally be anything you want it to be. In order to determine the costs of a steel building, you must know what you want. When you contact Steelsmith for a free quote, our representatives will ask you about the following:
[one_fourth]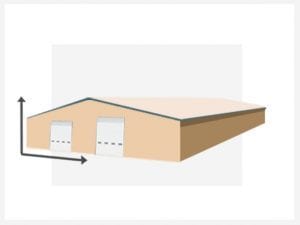 BUILDING SIZE
Size matters. In order to price a steel building, you'll need some idea of its dimensions. The great thing about steel buildings is they can be fully customized to suit pretty much any application/use or industry. And there's always room for expansion later. But to ballpark you a price, we'll need to know your building's projected width, length, and height. We can custom design buildings of any size.
[/one_fourth]
[one_fourth]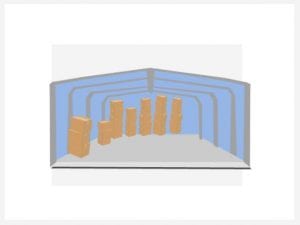 INTENDED USE
Steel buildings are much more versatile than traditional structures. Once we know the intended use of your building, we can determine what framing systems best fit your design needs and specifications. For instance, your building can have as many column or rafter beams as needed or you may opt for a clear span rigid frame requiring no interior columns if more open interior space is needed.
[/one_fourth]
[one_fourth]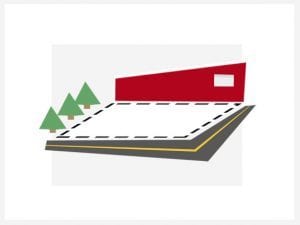 BUILDING LOCATION
Steel or metal building prices will vary depending on the region your structure is being built for. This is because your prefab building must be designed and engineered to meet or exceed each state or county's wind load and snow load requirements. Your address will also help the Steelsmith team scope out the property on Google Earth to look for surrounding trees or structures that are as tall or taller than your proposed steel structure.
[/one_fourth]
[one_fourth_last]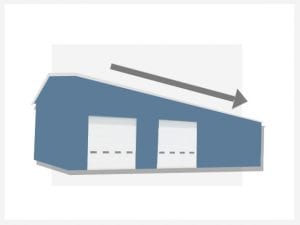 ROOF SLOPE TYPE
Steelsmith offers a variety of low and high-pitched roof pitch options to accommodate any style or look you want. Both low and high-pitched roofs have their benefits. A low slope roof offers more efficient heating and cooling. A high or steep slope roof is good for heavy snow loads. A low roof slope with the standard 1:12 pitch is the least expensive option since it requires less material. We offer 1:12, 2:12, 3:12, 4:12, 5:12, and 6:12.
[/one_fourth_last]
---
[one_fourth]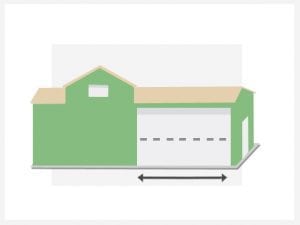 FRAMED OPENINGS
Framed openings are required with large doors. To determine the cost of a steel or metal building, it's important that we know the exact location and measurements needed for frame openings. Framed openings should at least be two-inches shorter than your building's height for doors to properly open/close.
[/one_fourth]
[one_fourth]
CONCRETE SLAB
Steelsmith's engineered steel and metal building systems can be anchored to a concrete foundation or directly to the earth. Concrete slab mounting is highly recommended since it makes for a more structurally sound building and an easier installation. If your building doesn't have a concrete slab (hay barns, riding areas, etc.), a base girt will be needed to effectively seal the bottom of the building.
[/one_fourth]
[one_fourth]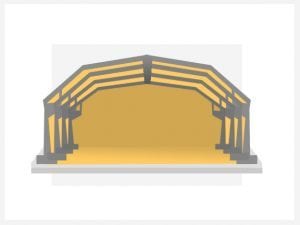 INSIDE CLEARANCE
Steel buildings offer greater inside clearance than traditional structures. Talk with your Steelsmith representative about how much inside clearance you'll need from the finished floor (grade) to underneath the inside wall's haunch.
[/one_fourth]
[one_fourth_last]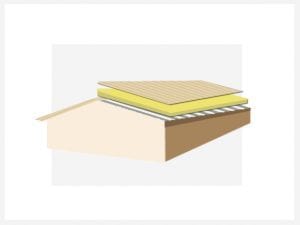 INSULATION TYPE
Insulation is critical if you want to maintain a comfortable temperature inside your building, conserve energy, control moisture and muffle sounds. Your Steelsmith representative can help you determine how much insulation blanket thickness you'll need for the roof and walls. We have both standard single and double layered packages available.
[/one_fourth_last]
In addition to the above, you must factor in the costs of other add-ons to your metal or steel building package like gutters and downspouts, canopies, windows, doors, purlin and eave extensions, vents or exhaust fans.
---
READY FOR YOUR QUOTE? CALL US TODAY
1-866-603-5053
---
WHY CHOOSE STEELSMITH?
High-Quality American Steel
Steelsmith's prefabricated metal and steel buildings are made from the highest-quality American-made steel for structural integrity. They are durable and virtually maintenance free.
Done-For-You-Services
You don't just get a prefabricated steel or metal building from Steelsmith, you get a partner in your project from start to finish. We design, manufacture, deliver, and put up your building. You get access to our helpful representatives and a team of designers, architects, project managers, concrete and steel construction specialists all working together for your project's success.
Single Source Accountability
Unlike when you work with different prefab building manufacturers/suppliers, erectors, or sub-contractors, everyone at Steelsmith is on the same team. This means less finger-pointing, shifting blame, unnecessary project delays or miscommunication. This makes for a more efficient streamlined process with better cost control and coordination from one phase of your steel building construction project to the next.
---