Steel Hangar Building Project Spotlight: Clear Skys
In this Steelsmith Project Spotlight, we will review the hangar project recently completed in Illinois for, Clear Skys, LLC. We will also take a closer look at our hangar project specialist, Jason Lerman, who has designed and erected a variety of hangar buildings for companies and pilot's all over the country.
Why Choose Steel for Hangar Buildings?
Steel buildings are the best option for airplane hangars for two crucial factors: 1) their open, unobstructed interiors, and seamless integration with specialized, mechanical hangar doors; 2) the unbeatable value per square foot that you get with large steel buildings, which is needed when storing aircrafts.
Private Hangar at the St. Louis Downtown Airport (KCPS)
Jason Lerman, Senior Project Manager at Steelsmith Inc, managed this hangar steel building project for Steelsmith customer, Clear Skys, LLC. The owner of Clear Skys uses the building as a private storage building for his personal Jet, a Challenger 300. The building is located on the St. Louis Downtown Airport in Saint Clair County, Illinois.
Due to the simplicity of this hangar, and the experience the Steelsmith team has designing and erecting hangar buildings, we were able to complete this project from start to finish very quickly. Steelsmith began this project by supplying the customer with a steel building quote in September of 2017. The hangar was completed only four months later, in January of 2018. Erection was finished in ten days time. Not only did we furnish and erect this hangar, but we also provided support for the door installation by completing prep work that included sheeting, insulating, and framing. The hangar is a total of 6,000 square feet and has 75 x 80 x 22 dimensions.
Hangar Features and Specifications:
Clear span framing system
17'6" x 6' clear opening for Swiess Bifold door
Full insulation: R-38 roof and R-19 walls
Galvalume roof
Interior office space for flight planning
Airport Job Site
Working on a job site that is located within airport land requires a certain level of professionalism and awareness. At Steelsmith, we know how to coordinate with the fire marshall and airport security to abide by all airport rules, which helps our hangar projects go smoothly.
All members of our erection and construction crews also keep the site clean and organized throughout the duration of the project. This is extremely important because of the damage stray materials can cause to plane and jet engines. For example, a stray piece of insulation can get sucked into a jet engine and ruin it, causing hundreds of thousands if not millions of dollars of damage.
At Steelsmith, we limit the opportunity for costly job site mistakes. Steelsmith crew members understand that airports have no margin for error, and we consider this each and every time we step foot on airport grounds.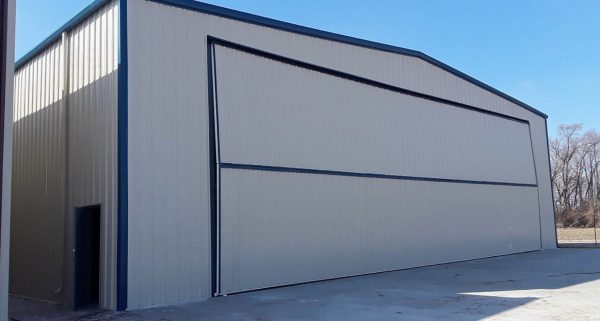 Steelsmith's Hangar Specialist
Jason Lerman has manage over 10 hangar projects with Steelsmith. He has designed and erected comparatively small, privately owned hangars to 23,000 square foot commercial hangars. Jason has worked on hangar projects all over the United States and Canada, to include Ontario, Vermont, Pennsylvania, and New York. As he comes from a family of aviation, and recently became a pilot himself when he got his private pilot license just last year in 2017, Jason's passion for airplane hangar steel building projects shines through again and again.
Steelsmith Hangar Projects
Clear Skys is one of the many successful hangar projects completed by Steelsmith in recent years. We continue to build high quality, long lasting steel hangar buildings for our clients and look forward to building more with help from Jason Lerman and our experienced hangar erection crews.
View, Save or Share the Clear Skys Steel Hangar Building Project Spotlight PDF.
– or –
Fill out our free quote form to learn more about how Steelsmith can help you design and build your steel building project.