How to Choose the Right Erection Crew
Choosing The Right Erection Crew
One of the biggest benefits of building with Steel is the streamlined erection process. Since buildings are prefabricated, the pieces are shipped, steel beams are raised and connected, and voila! A steel building is formed. Although the erection process might seem simple, it's actually a complex process that requires highly skilled and practiced steel erector professionals. Metal building erection can easily go awry and turn what should be a quick and smooth construction phase, into a construction nightmare. Choosing the right steel building erectors for your steel building project helps ensure a smooth and efficient erection process takes place.
Choosing an erection crew that is certified and experienced specifically in pre-engineered metal building erection is an impactful decision. An unqualified or inexperienced crew will increase cost, construction time, and/or decrease workmanship. A qualified and experienced  erection crew will help your building get erected smoothly and efficiently.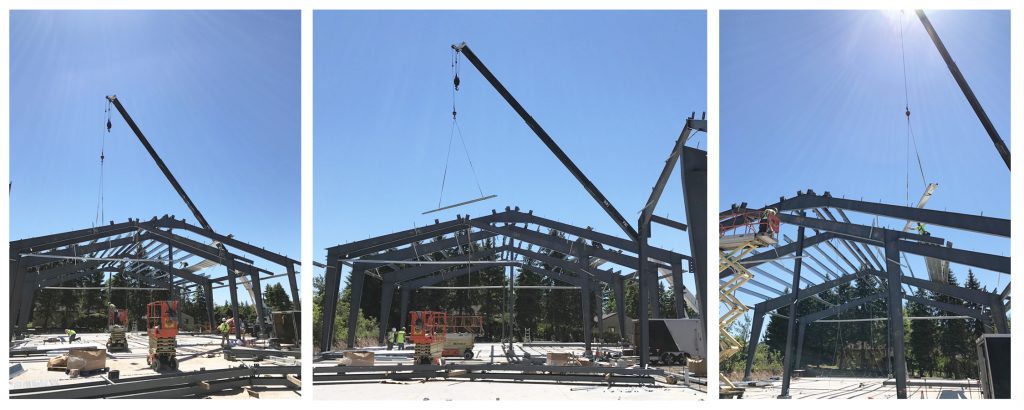 Qualified Metal Building Erectors
Erecting a pre-engineered steel building may look simple, but it's a unique skill set. Ill informed customers hire iron workers or sheet metal workers to erect their building. What you need to understand is that neither an iron worker or a sheet metal worker has all of the skills needed to complete all of the steel building erection process well. Here's why: The erector needs to be able to erect/install the framing package with skill set of an iron worker, and they also need to be able to install the sheeting and trim package with the skill set of a sheet metal worker. As a general rule of thumb, iron workers usually struggle with the sheeting and trim, and sheet metal workers struggle with the framing package. These struggles result in longer build time, more money, and lower quality buildings.

Another factor that is part of being a qualified metal building erector, is OSHA compliance. It's important to choose an erection crew that follows all Occupational Safety and Health Administration (OSHA) regulations to ensure a safe and legal construction site. Following OSHA guidelines results in a safer work atmosphere with a smaller possibility of injury.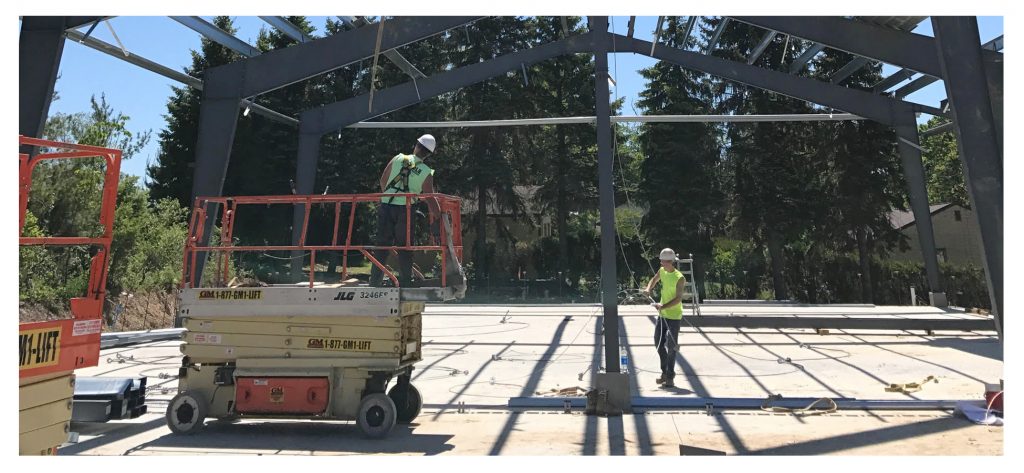 Experienced Erection Teams
Not only do you want an erection crew that has erected many steel buildings before yours, but you also want to choose a crew that has worked with each other for a while too. Erectors that can't sustain consistent business see high rates of turnover of laborers on their team. New and old crew members then need to learn each other's strengths and how to work together, which in turn lengthens the erection process. Erection crews that have been working together for a while know each other's roles in the process, which can result in good teamwork, better craftsmanship and faster erection time.

Steelsmith Erection Crews
Our erector teams have attended factory-sponsored erector training programs and are in compliance with the mandatory Standing Seam Roof (SSR) erection procedures. Many of our crews also have additional certifications that qualify them to install High R Value Insulation packages. High R Value Insulation Packages are not easy to install, so having an experienced erection crew to install the material is paramount. Other certifications our erection crews have are for specialty door installations including Norco Sliding Doors, Bi-Fold Doors, and Hydraulic Doors as well.
*Note that if your erectors are not certified to install the specialty doors listed above, then the customer will be required to pay for a separate subcontractor to install the doors, or the door company will need to provide site supervision. ($$$)
Our erection crews are both qualified and experienced, making them a solid choice for the erection of your building. But beyond just erection, when you work with Steelsmith, you get so much more than a strong steel building erection crew. You get a reliable steel building company that will be the single source of accountability for your building.

Where are Steelsmith Erection Crews Located?
Steelsmith erection crews are located all over the country. We even have completed jobs in Hawaii, Alaska, the Caribbean Islands, Canada, and Peru. View the
Completed Buildings Map
to view all of our steel building locations.
When you work with Steelsmith, you can pick and choose the services you want us to provide, or you can have all of your steel building needs met from design to erection; from concrete services to furnishing your building with all the bells and whistles in between.
Ready to get started? Fill out our online quote form now. Or learn more about our Services today!