6 Reasons Steel Buildings Make the Best Warehouses
A warehouse is a great building to own: they're versatile, and can be used for anything from storage to industrial use. But why should you opt for a steel building for your next warehouse?
1. Maximize Space
One of the best features of steel buildings is that they can be constructed without any interior columns that might take up valuable floor space or interfere with interior operations. The simple fact that machines and laborers do not have to maneuver around massive interior columns can save countless hours of work. It also is incredibly important in maximizing space for storage.
2. Expansion-friendly
Sometimes clients have told us that they intend to extend their building in future years as their business grows. With steel buildings, this can actually be a very simple process. If the original building was properly erected and well-maintained, you can easily expand it rather than constructing an entirely new structure.
3. Strong/Durable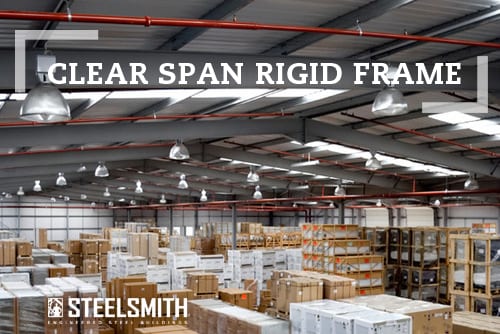 We always like to highlight the superior strength and durability of steel over other building materials. Warehouses often are used for commercial and industrial spaces, meaning that they contain heavy objects or heavy machinery that if mishandled can cause significant structural damage. Steel buildings are better able to withstand this type of impact damage.
4. Resistant to the Elements
Another strength of steel buildings is that they can handle a wide range of environments and climates. They are extremely fire resistant, which makes them the perfect choice if your warehouse stores combustible materials. Furthermore, they are also grounded buildings, and if struck by lightning, can safely disperse the charge into the earth. Steel building are also built with wind exposure in mind to ensure your building will withstand the various wind exposure it will encounter. Wind exposure is dependent on multiple factors – you can learn about about wind exposure for steel buildings in this blog post: Why Wind Exposure Matters in a Steel Building
5. Energy Efficient
Energy efficiency is one of the primary concerns of any business owner. You want to make sure that the building is affordable as possible in the future. With steel buildings, it is often important to insulate your building for proper temperature control. Nothing can hurt the efficiency and affordability of a building worse than super-high heating or cooling bills. Lucky for you, metal is reflective, and therefore can reflect heat, making buildings less warm in the hot, sunny months. Another reason metal buildings and roofs can stay cooler is due to the addition of chemicals designed to reflect infrared wavelengths, which can be added to the metal building paint.
6. Customizable Exterior
Steel buildings are easily customizable in their appearance, and can be designed to fit a certain local or a specific company brand. From eaves to massive garage doors to skylights, we can make sure that your building has the look pictured in your head.
Learn more about Steelsmith Steel Building Services, or peruse through our Project Gallery to learn more about us, and the buildings we have designed and erected. If you are ready to take the next step and get a free quote for your project, fill out our quote form or give us a call at 866-603-5053 M-F from 9-5 EST to speak to one of our steel building experts.