Why Value Engineering Beats Price Shopping
Why is Value Engineering of highest importance when it comes to Steel Buildings? Because the adage "you get what you pay for" applies to steel buildings. Learn how to detect steel building price quotes that will likely increase as the project moves forward, or end in a low quality steel buildings.
Value Engineering Beats Price Shopping Every Time
When it comes to steel buildings, when you only look for the lowest up-front price, you will also end up with the lowest quality building and workmanship. Looking at just the quoted price can be misleading, and while it might be tempting to jump at the lowest price, it probably means that it could cost you later down the road.

When discussing your project and the building estimate with the steel building consultant, it's essential that you talk with them about what elements go into the price. Not all quotes are the same, and some companies mislead customers by leaving out essential services (such as delivery of the building to the job site) to make their price seems artificially lower, only to unsuspectingly charge you for the service later in the project.
What is Value Engineering?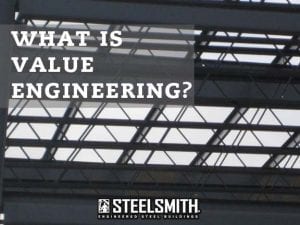 At Steelsmith, we always stress value engineering. We know that the lowest up-front cost does not equate to the lowest overall cost, and that it is more important to provide you a quality and long-lasting building that will provide you the best value per dollar spent. While you could skimp on quality in favor of short-term savings, this ultimately leads to more expensive maintenance and costs down the road. For example, spending extra to make your building energy-efficient can increase the initial cost of the building, but will ultimately be much less expensive in the long-term because of smaller utility bills for heating, cooling, electricity, etc.
Engineering for cost-effective solutions will always provide a better building per dollar than engineering for the cheapest building possible. Talented and creative design teams (like the one at Steelsmith) will find outside-the-box solutions to provide you the highest quality building within your budget.
The Financial Advantage of Value Engineering
Emphasizing value over cost is important at every stage of the steel building process. Designing intelligently and creatively will always serve the wallets of customers better than bargain bin options. This is also true for the erection of the building. Hiring factory-certified, trained, and experienced erectors rather than an untrained crew is always the best financial choice. Untrained crews are more susceptible to making mistakes than can jeopardize the structural integrity of your building, resulting in costly repairs that can destroy your budget.
Creating a well-designed, long-lasting, correctly erected building the first time around will always be the better option than targeting the cheapest price (which often occurs during the cancelled building pitch). Choosing a bargain option means that you will be paying for the building over and over again, while choosing a value-engineered option means that your future costs will be minimized, and therefore less expensive in the long-term.
Get your free online steel building quote.