How to Choose a Contractor for Your Steel Building
So you have decided to put up a steel building on your property because they are strong, durable, environmentally friendly, and highly customizable. This is a sound investment for your future, provided that you select the correct contractor to carry out the project. Choosing the correct contractor (whether it is a company or an individual person) will be the most important factor of whether your project succeeds or fails, and this project is simply too costly to risk failure. 
Contractors will assist you in purchasing your steel building from the manufacturer, manage your project, and contribute to the design and erection stages of your building. They are essential to the steel building process.
 Now that you know the importance of the contractor, you should review what factors should go into choosing the right contractor for your project.
Experience Helps, 

S

teel-Centric 

Experience is 

the 

Best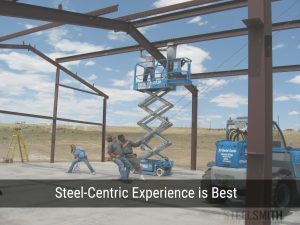 The making of a steel building is unlike any other structure.
 From the design to the manufacturing to the erection, each phase is completely unique to the steel building process. Every detail from the correct location for screws to the type of insulation is specialized for steel buildings. 
A contractor without specific and significant experience in steel buildings is at a major disadvantage to a contractor that specializes in steel buildings. Contractors with long histories of designing and erecting steel buildings will be able to anticipate any issues that might arise throughout the process, can better work with the manufacturer, and ensure that the project is progressing on time and as planned.
Don't Trust a Contractor at Their Word, Double-Check Their Background
Before signing a contract for your new steel building, you should see what you can learn about their background. Contractors with sketchy or fraudulent backgrounds will often have reports of their illicit practices online, and these less than reputable histories are easy to find with your internet search browser or on other websites that chronicle such behavior. Also, make sure that you perform separate searches for both the individual salesman you have spoken to and the company you would potentially buy the building from.
What

 Kind of S

ervice a

re They Offering?
It's important to distinguish between a steel building broker and a steel building contractor. A broker is only going to sell you the building – they won't provide you any additional services. Conversely, a steel building contractor will manage the project for you. They will facilitate every different part of the process for you, applying their expertise at each phase to make sure that the project progresses smoothly.
I

s the Contractor Really Taking A

ccountability for the Entire Project?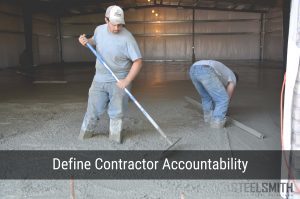 When working out a contract with a steel building contractor, you will need to double-check to see that all of the work the contractor has promised to manage and complete is included in the contract. Additionally, they should be one the ones making contracts with any necessary sub-contractors, especially those that they are recommending to you. If the steel building contractor doesn't trust the sub-contractor enough to put the sub-contractor's work on their own contract, they probably should not be recommending them in the first place.
Choosing the right contractor for your steel building is among the first pivotal choices you will have to make for your building. Your contractor will be your closest ally throughout the project, taking the burden of project management off your hands while simultaneously providing expert advice. Therefore, choosing the right contractor could be the most important factor for whether your steel building project succeeds or fails.
At Steelsmith, our services include design management and architectural services, to manufacturing and delivery, to self performed concrete and construction. Learn more about Steelsmith and our Services to learn why our start to finish Steel Buildings are the best answer for your project needs.